I've been using this product for about 6 months so I think now's the right time to make an informed review on it. The John Frieda Full Repair range has been on my radar for a while after I found their conditioner made my hair feel smooth and a lot less damaged. Back when the 3 for 2 on haircare in Boots was consuming every blogger's money, I decided to grab the Full Repair Perfect Ends Deep Infusion, but having no real experience with haircare before, I had no true expectations.
This treatment is to be applied to wet hair, and the product is clear and of a consistency slightly thicker than water, so it doesn't add any weight to the hair. After a bath I throw my hair forward and rub it into the ends, as this method ensures I catch all the layers I have cut into my hair. The bottle suggests using one pump but I like to use two or three to ensure the product is evenly distributed.
John Frieda claims this product 'smoothes and protects medium-textured hair damaged from high heat'.
I'd say my hair is medium-textured, and I use high heat on my hair every day I leave the house using my Babyliss Wave Envy, so what does this have to offer me?
'This breakthrough formula with Inca Inchi, a lightweight, micro-oil rich in omega-3, feels like it absorbs into worn-torn strands instead of just coating the surface.'
Am I the only one that's never heard of Inca Inchi until now? My curiosity demanded I do a quick search for it, and this is what I found: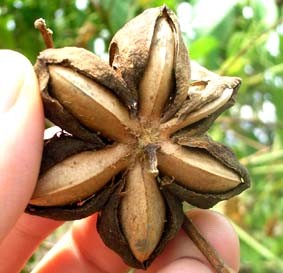 ecstatic
if I found these in the back garden. But then again, this is coming from a girl who's so amused by starfruit that they're just too cute to eat!
Anyway, back to the product - it's safe to say I've never felt like I've even used anything on my hair afterwards, it dries instantly into my hair and there's no sticky residue whatsoever, so it definitely doesn't just coat the surface.
'Weightlessly reverses the look and feel of damage on lengths and ends to leave hair smooth, shiny and full of body.'
As it feels like I've not even touched my hair when I've used this, it's certainly weightless. My hair is smooth and shiny, or at least a damn sight more than it was before. However, full of body it isn't. Maybe that's because my hair is thin and naturally straight as a die, but to claim that it will improve the volume of hair is a bit extravagant considering the already enormous effects John Frieda claim it will have.
'Helps protect against breakage from heat styling.'
Well it seems to be doing just that! Before using this, my hair was splitting everywhere, breaking like nobody's business, lacking shine and general signs of life. Now of course, I still dye my hair so the effects of this product aren't massively felt, but the damage I've come to expect from the heat I subject it to are more or less non-existent.

Would I repurchase this? Definitely. While I've never tried something like this before so I have no idea if others will work better or worse, I'm loving what this is doing for me now so I won't contemplate changing for now. I've used this about 2-3 times a week for 6 months and my bottle is still a third full, so it's definitely long-lasting.


I have to apologise for the lack of photographic evidence of the dramatic improvements to my hair condition, but as I started using this before I started blogging, I didn't know to take a photo before!

What's your favourite hair treatment?